Around 1899 British Antique Heart-Shaped Sterling Silver Pocket Watch Holder with REVUE Pocket Watch
We would like to introduce a set of a pocket watch holder made in England and a pocket watch made in Switzerland.

The watch holder is made in England and is heart-shaped with sterling silver engraving.
I have dealt with several pocket watch holders like this, but this is the first time I have obtained one of this shape.
This type is often for large watches called Goliath, but it is a size that fits a general pocket watch of around 50mm.

A pocket watch (moving item) made by Swiss REVUE is included in the set.

We hope this lovely pocket watch holder and antique watch will brighten up your day!


The overhaul history of the pocket watch is unknown, but the balance swing is good and it is ticking and moving well.
We are uploading videos on YouTube. Please use it as a reference for operating conditions.
https://youtu.be/1F6EvpstT9g



[Condition etc.]
(watch holder)
・There are stains and small scratches over time, but there are no noticeable scratches and it is well maintained as an antique item.
・The back side is covered with dark green leather and the inside is covered with green velor.
・A hallmark indicating pure silver by the British Assay Laboratory is engraved.

(pocket watch)
・Case: Overall wear and some rust on the back cover, but no noticeable scratches or dents.
・Dial: There is a very thin hairline around 2-4 o'clock, but it is not very noticeable ・Accuracy: Within 1 minute per day when measured with a timegrapher placed flat ・Power reserve: Confirmed from full mainspring to 28 hours

*The daily difference will change depending on the posture difference and the winding condition of the mainspring, so please consider it as a reference only.

【detail】
(holder)
・Maker Henry Matthews
・Year of manufacture 1899 (Birmingham z)
・Materials sterling silver, wood, leather, velor
・Size Height 110 x Width 103 Depth 27mm (when folded)
・Weight 86g

(pocket watch)
・Brand REVUE (now Revue Tomen)
・Manufactured around 1930
・Movement mechanical ・Mainspring hand-wound ・Time setting pendant set (pull the crown)
・Serial No.2600027
・Material: Pure silver nickel alloy
・Case diameter 48mm (excluding crown)
・Case thickness 12mm (including windshield)
・Weight 71g

* Since it is an antique item, there is no other exactly the same item. If you have any questions, please feel free to ask us anything.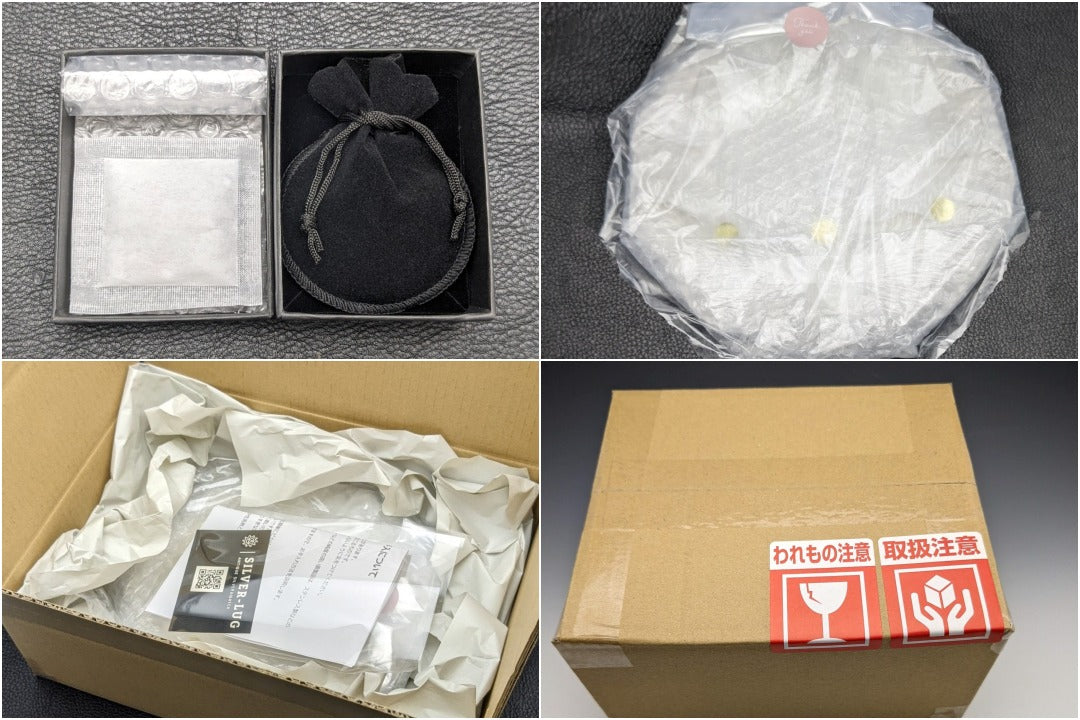 We deliver with all our heart
We will thoroughly inspect and clean the product before shipping it, so please wait about 2 business days before shipping.

We wrap delicate antiques in thin paper or cushioning material so that they do not get damaged during transportation, and we pack them securely so that they do not move inside the cardboard box.